Lodging
We invite you to try an overnight stay in our 1831 Federal style Captain's house.
Upstairs you'll find four bedrooms with queen size beds and a shared bath. Downstairs we have one room with a double bed and half bath, and also the library, which has a queen size sleeper couch and DVD/TV. We also offer a two-room efficiency apartment with bathroom and TV, which accommodates four or more guests.
We enjoy sharing our home with guests. Our house is rustic and intimate. Cozy up on the couch and bask in the glow of firelight. Wander around a bit and find yourself surrounded by all sorts of original art, photographs, sculpture, and souvenirs from exotic travels. There's a story to tell about everything, if you're curious.
Stroll the grounds – sunbathe au naturel – or meander through the woodland trails in any season. Old logging roads in our 75-acre woods are perfect for cross-country skiing.
We enjoy the clothing-optional lifestyle in our home. Feel free to walk around in the buff, or to wear whatever you like. We do not allow smoking, vaping, or pets in the house.
Each room offers cable TV, wireless high speed internet access, and air conditioning.
Small groups can be accommodated.
Guests staying at the lodge have use of the sauna, hot tub and pool included.
We accept cash or personal checks. We regret that we can't accept credit cards. Nor can we accommodate pets.
Call for more information or to reserve. By phone: 207-737-4752 or 1-800-400-5751. By email: richmondsauna@gmail.com .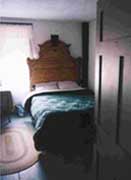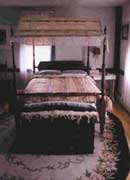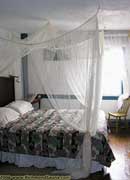 Roberts Guest Room Canopy Guest Room Lilac Guest Room White Guest Room